Welcome to Workforce Development Month!
During the month, the S.C. Department of Employment and Workforce and SC Works system partners will promote numerous opportunities for jobseekers and employers alike through job fairs, open house events, workshops, social media, press releases, and more. Statewide forums with industry organizations will address the pressing workforce challenges and existing solutions, while our agency will work with other government agencies, business professionals, and experts in various fields to examine the economy, statewide and local job markets, and find innovative ways to increase participation in the labor force.
This month is filled with opportunities. Want to know all of the job fairs or workshops available near you? Click on any of the below Workforce Development Month Local Area Calendars!
---
---
Applications are due by Friday, October 14.
Did you miss the Connection Points Expansion Grant Information Session held on Wednesday, September 7? 
Watch the entire webinar here, view the presentation slides here, and read the transcribed Questions & Answers portion of the webinar here.
Please email any questions or requests for additional information to DEW's Grants Management team at workforcegrants@dew.sc.gov.
---
Featured Employer of the Week

About Workforce Development Month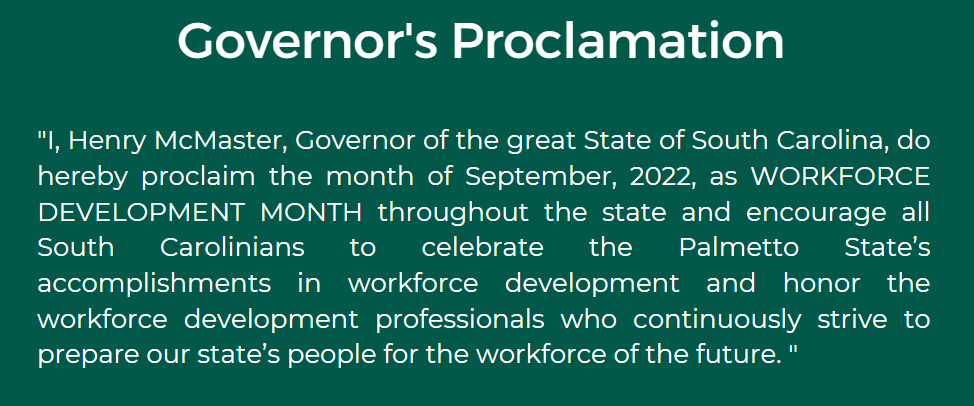 Workforce Development Professionals Month was created in 2005 by the National Association of Workforce Development Professionals (NAWDP) to raise awareness about the importance of industry to a growing national economy. Originally celebrated in May, NAWDP moved the designation to September in 2012. The U.S. Senate recently passed a resolution in 2021 to name September as Workforce Development Month. During September, South Carolina will join in the celebration to highlight the state's workforce development activities for both jobseekers and employers, as well as the professionals that make those activities possible.